Colorado Custom Door Hardware
Custom Door Hardware has been in business since 2000, bringing customers throughout Colorado the most extensive selection of hardware for doors, windows, cabinets and drawers. Our inventory includes top name brands, spanning both mid-range and high-end cabinet hardware, knobs and levers. We welcome both retail and wholesale orders. We can order all the products in a set or individually for your specific needs from any one of our featured manufacturers!
Your Hardware Source
We offer the largest and best selection of accessories when it comes to handles, knobs and levers for doors, custom window hardware, and cabinets/drawers.
Our options range from custom pieces to mid-range, budget-friendly hardware and we're happy to help you decide what's right for your budget and your home.
We've been in business since 2000, proudly serving customers throughout Colorado. We work in both wholesale and retail capacities.
Our selection of hardware products includes some of the very best name brands in the industry. We're also an exclusive wholesale distributor for Rocky Mountain Hardware!
Our business is affiliated with the Door and Hardware Institute and our staff is backed by extensive knowledge in everything that we sell.
The Biggest and Best Selection of Hardware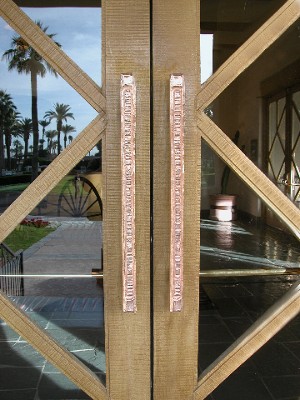 Imagine a big, beautiful front door or fine-crafted custom cabinetry in your home. These beautiful additions stand out and look great because they represent quality—right down to the smallest detail. When it comes to getting these details right, Custom Door Hardware is standing by. We offer the utmost in quality architectural hardware solutions, from luxury doorknobs and window levers to drawer and custom cabinet hardware in Colorado. Our hardware helps your commitment to quality stand out even further, so your many architectural features contribute to the prestige and appeal of your home. In fact, architectural projects featuring hardware supplied by Custom Door Hardware have won numerous design awards!
No other retailer boasts our selection of door hardware in Colorado. We source form numerous brands, each with their own hallmark styles and designs, to ensure we're bringing you the absolute best range of options. Whether you prefer contemporary luxury or the charm of rustic décor, we've got the options best-suited to complete your aesthetic preferences. Best of all, we can find unique, high-end pieces, as well as product families, allowing you to customize one aspect of your home or the entire scope of home. Let us show you the transformative power of architectural hardware and custom bath accessories in Colorado!
Discover the Right Hardware
From cabinets to doors, custom drawer hardware to windows, you won't find a better selection of hardware options anywhere else! Consult with us today to discuss your budget and tastes.
We offer the best in custom door hardware, cabinet hardware, and bath accessories in all of Colorado including:
Parachute, CO
Aspen, CO
Clifton, CO
Grand Junction, CO
Glenwood Springs, CO
Redlands, CO
Montrose, CO
Craig, CO
Steamboat Springs, CO
Price, UT
Cortez, CO
Durango, CO
Golden, CO
Boulder, CO
Applewood, CO
Ken Caryl, CO
Superior, CO
Vail, CO
Telluride, CO