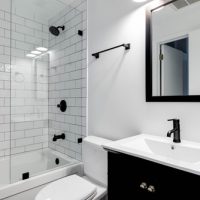 Your bathroom is one of the most important spaces in your home. It's where you start and end your day, and it should be a place of relaxation and comfort. One way to enhance the overall look and feel of your bathroom is by updating the hardware. From faucets and showerheads to towel bars and cabinet knobs, stylish bathroom hardware updates can completely transform your space. Here are a few ideas to inspire you.
1. Upgrade Your Faucet
The faucet is one of the most frequently used items in your bathroom, so why not make it a focal point? Consider upgrading to a chic, modern faucet that complements your existing fixtures. Brushed nickel or matte black finishes are on-trend and can instantly give your bathroom a contemporary edge. A single-handle faucet with a high arc can also add elegance and functionality to your sink area.
2. Install a Rainfall Showerhead
For a luxurious spa-like experience, replace your standard showerhead with a rainfall showerhead. This type of showerhead mimics the feeling of standing under a gentle rain shower, providing a serene and soothing experience. Rainfall showerheads come in various designs, including square or round, and they can be ceiling-mounted or wall-mounted. Choose the one that best fits your bathroom design style and enjoy the ultimate relaxation during your showers.
3. Embrace Modern Accessories
Updating your bathroom hardware goes beyond faucets and showerheads. Accessorize your space with modernized towel bars, robe hooks, and toilet paper holders. Opt for sleek designs in coordinating finishes to create a cohesive and polished look. These small updates can make a big impact on the overall aesthetic of your bathroom.
4. Consider Unique Cabinet Knobs
If you have cabinetry in your bathroom, swapping out standard cabinet knobs with unique ones can instantly elevate the whole room. Aim for knobs that are not only functional but also visually striking. Look for options made of materials like brass, glass, or marble to add a touch of elegance and sophistication. The right cabinet knobs can be the perfect finishing touch for your bathroom makeover.
5. Upgrade Your Lighting Fixtures
Lighting plays a crucial role in any bathroom. Installing new lighting fixtures can completely transform the atmosphere and functionality of the space. Consider replacing outdated fixtures with stylish, energy-efficient options. LED vanity lights are a popular choice as they provide bright illumination while reducing energy consumption. Sconces on either side of a mirror can add a touch of warmth and elegance. By updating your lighting fixtures, you can create a well-lit, inviting bathroom environment.
6. Don't Forget About the Accessories
In addition to the hardware updates, don't forget about the smaller accessories that can enhance the overall style of your bathroom. Swap out your old shower curtain for a fresh, modern design. Change your bath mat to one that complements the new color scheme of your bathroom. Add decorative items like candles or artwork to create a cozy, personalized feel. These small touches can make a big difference in how your bathroom looks and feels.
Conclusion
Updating the hardware in your bathroom can have a significant impact on its overall style and functionality. From faucets and showerheads to cabinet knobs and lighting fixtures, there are numerous ways to elevate your space. By incorporating stylish and modern hardware updates, you can transform your bathroom into a stylish sanctuary where you can relax and unwind. Don't be afraid to mix and match different finishes and styles to create a personalized look that reflects your unique taste. So go ahead, elevate your bathroom with these stylish hardware updates and enjoy a bathroom oasis you'll love.
Got Questions? Let Us Help!
Custom Door Hardware has been in business since 2000 and has been serving Colorado ever since! We specialize in custom hardware for doors, cabinets and bathroom accessories. At Custom Door Hardware we pride ourselves on our product knowledge and expertise. We provide our customers with the knowledge they are seeking when they are looking to upgrade their doorknobs, handles and bathroom accessories. All of our products are high-end custom products. We can order all the products in a set or individually for your specific needs. Give us a call today!
Categorised in: Bathroom Hardware